Introduction
An iframe is an HTML element that allows to insert or embed an HTML document within the main HTML code.
This document describes how to integrate the different Mobadoo iframe products.
Considered products
The current version of the document uses QUINIELA as an integration example, although any of the iframe products integration must follow the seam patterns.
Development Environment
Resources
Mobadoo uses two environments for managing the integration process: Stage y Producción. The APIs' URLs are the following:
Websocket: ws://api-stage.mobadoo.com/
Endpoint URL: https://api-stage.mobadoo.com/api/v1/
Token: Test_key
Token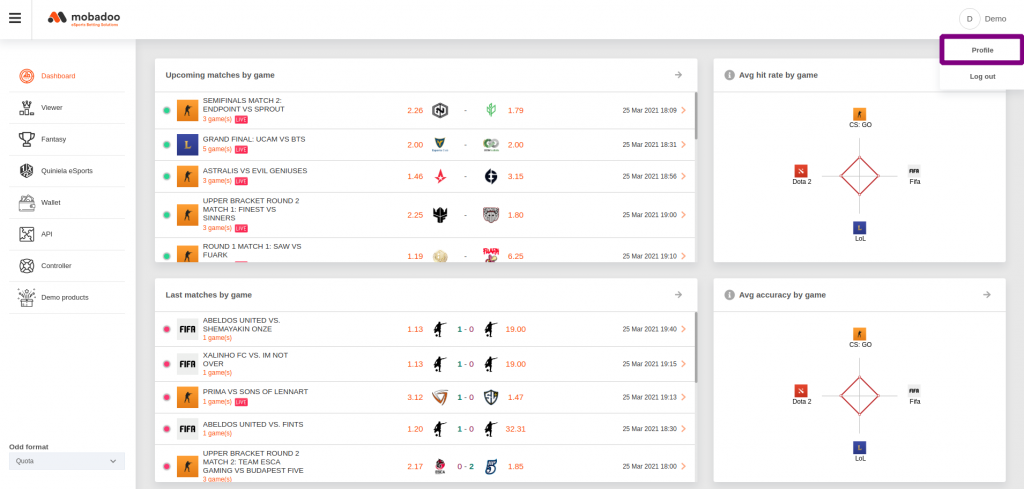 The session TOKEN for the APIs could be found at the Mobadoo's back-office console, in the profile section, as it is shown on the following image:
Clicking in the user name at the upper-right corner, highlighted in yellow, takes you to the account's detailed information and configuration.
Token expiration
Even though the token does not expire, it could be refreshed from the back-office console.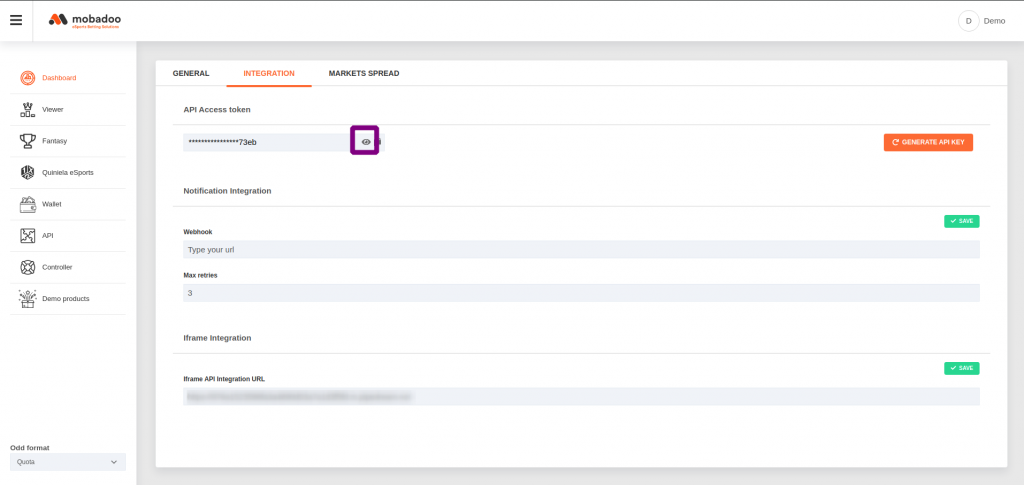 Clicking on the "eye" icon, it is possible to see it. It is also possible to copy it, clicking on the copy icon. The token allows you to place API calls as your user.
Iframe
The iframe integration is done in two parts:
Iframe Integration:

Frontend integration at your web site

API-Wallet integration:

Backend integration for managing
backend integration for managing the data generated at the iframe, such as the bet-slips.
Iframe integration
The iframe is being integrated by the parameters used on the URL POST or GET, making it the easiest and quickest way to achieve integratation.
The iframe's URLs for each environment are:
PRO: https://online.mobadoo.com/?hash=XXXX&client_uid=XXX&profile=XXXX
PRE: https://online-stage.mobadoo.com/?hash=XXXX&client_uid=XXXX&profile=XXXX
Configuration:
There are two types of configurations: aggregate in the default iframe URL, and the generated profile at the Mobadoo back-office.
Account profile
It is possible to add personalized visualization frameworks (CSS), currency assignments, etc. This will generate a configuration identification that will be added to the iframe URL.
Testing:
Above you have some utilities to try the integration with out system and script generation to a easy implementation.