Concepts
1. Data hierarchy
For a better understanding of how eSports works, it is recommended to see its competition structure, for getting used to Mobadoo's API.
The competition structure of games such as LOL, DOTA2, and CSGO, are very similar to traditional sports, such as Tennis, NBA and Football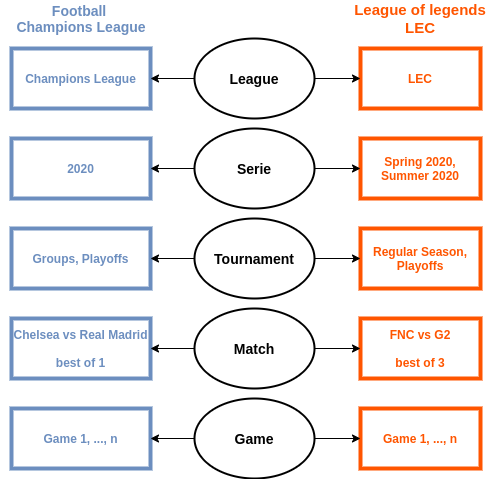 Knowing that the structure that is being used in the API is the same for each videogame: LOL, DOTA2, CSGO, etc, speeds up the integration process. There are few exceptions, regarding specific details of certain video-games, such is the case of the weapons that would only be available in CSGO or LOL's Champions, etc.
2. Match live cycle
In Mobadoo a match can go through different states as we offer in the graphic. The states are: NS, RU, FI, PT, CA
Not Started (NS): The match is scheduled waiting to start.
Running (RU): The match is running
Finished (FI): The match its finished
Postponed (PD): The match was reescheduled
Canceled (CA): The match was canceled